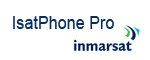 Free test call If your phone has been out of use for a period of time, make a free test call by dialling +870 776 999 999 from your IsatPhone Pro.
MAKING & RECEIVING CALLS
1. Switch on your phone by holding down the red key for several seconds.
2. Stand outside with a clear view of the sky and the antenna pointing upwards.
3. Check your phone is connected to the satellite network - Inmarsat is displayed at the top left of the screen.
4. Ensure you have at least two bars of signal strength.
5. Ensure there is sufficient battery power.
6. Ensure that your phone has a GPS fix – the GPS fix required icon is not displayed.
7. Dial the full international number and press the green key, eg. +44 1621 123456 .
8. To end a call, press the red key .
9. Switch off your phone by holding down the red key until the screen shuts down.
Making a call
Enter the full international number by dialling either + (hold down the 0 key for 3 seconds) or 00, country code, area code (without the leading 0), telephone number and press the green key , eg. 00 44 1621 123456 or + 44 1621 123456 . A Calling message and the name of the person being called (if listed in your Phonebook or SIM contacts) will display on the screen. When the call is answered, the screen will show the call time in minutes and seconds. To end the call press the red key .
Making a call from saved contacts
Select Menu > Contacts > Phonebook. Scroll to the desired name using the navigation keys, or enter the first letter of the name in the search field. The matching contacts will be listed. Highlight the name and press the green key . See Phonebook, contacts and organiser on page 31 for more information.
--------------------------------------------------------------------------------------------------------------------------------
FEBRUARY 8, 2013: Critical Firmware upgrade released by Inmarsat, version 5.3.0 - Follow the link below to upgrade your handset

Inmarsat IsatPhone PRO- Firmware Upgrades

Follow this link to obtain the latest IsatPhone Pro firmware.

Data:
Download the data guides (Please note: If you are using Vista or Windows 7 you must download the latest firmware):
--------------------------------------------------------------------------------------------------------------------------------

IsatPhone Pro Frequently Asked Questions:

How do I dial from my IsatPhone Pro phone?
Consider your phone as another country. This means that you ALWAYS need to dial the international access code of the country your are calling to even if you are physically inside that country. For example, to call the USA, you must dial 001 123 123-4567 or to call Belgium, you dial 032 2 123-4567.

Calling Inmarsat satellite phones from the United States/Canada explained:

011 - US International code; must be dialled first for all international calls made from the USA or Canada
870 - country code for the Inmarsat network
phone number - 9 digits
Calling from US to Inmarsat international dialling format: 011 + 870 + ??? ??? ???
How do people send a text message to my phone?
There are two ways, first is by email. To do this you simply send it as follows: 870XXXXXXXXX@message.inmarsat.com. The other method is to go to our Home Page and scroll to the bottom and click on the "Send A Free SMS" link and follow the instructions.

How do I check my prepaid minute balance?
Outside the US: Simply dial 531 from your handset and you will get a recorded message telling you how many minutes remain on your card.

How do I make an emergency call from my IsatPhone Pro?
Please be advised that currently, emergency calls are only possible in the US. To make an emergency call in the US dial 911 or 112. The call will be put through to a call centre which will connect the call to the appropriate emergency service. Alternatively, Menu > Contacts > Emergency numbers, can be selected on the phone. Dialling 911 or 112 (in the US) over rides all security locks and bars on the phone. An emergency call is free of charge.

What does Texting Cost from the IsatPhone Pro?
Texting costs are described as SMS or short messaging on the rate chart on our website. A message may be undeliverable because of problems on the receiving side of the communication such as mail filters or mail-box-full errors or even wrongly typed addresses. For this reason, outbound messages are billed per recipient whether or not they are deliverable. Up to 10 outbound messages can be concatenated to form a 1600-character "long" message which would be billed separately as a series of 160-character maximum regular SMS messages.

Can I send a Text Message to Another Satellite Phone or Cell Phone?
Yes, IsatPhone short messaging to other IsatPhone units, other types of satellite phones or to cellular services is possible and is called text-to-text messaging. IsatPhone-to-Email is called text-to-email messaging. Both features allow standard texting and predictive texting. The predictive texting feature can be toggled on and off using the button at the bottom right of the keypad. Each individual outbound message has a maximum size of 160 Latin characters (or about 74 non-Latin characters). Up to 10 outbound messages can be concatenated to form a 1600-character "long" message which would be billed separately as a series of 160-character maximum regular SMS messages.

How do I make a Call to My IsatPhone?
You can make an international long-distance call from any landline to your IsatPhone mobile satellite phone. The 870 part of your mobile number is the Inmarsat "country code". The calling party will pay for the call at whatever rates have been agreed to between the calling party and its international long distance carrier. Be advised, the rates for these calls can be very expensive. Contact your landline or cellular provider to verify rates.

How Long do the Batteries Last?
The IsatPhone Pro has an excellent battery that offers up to 8 hours of talk time or 100 hours of standby (at room temperature). The phone can be operated at up to 95% humidity at temperatures from -20 to +55 degrees C. The battery can be charged on AC "wall" power or 10-30 Volt DC "car" power using the accessories provided with the standard kit. It can also be charged using the USB port of your computer. Solar charger solutions are available. Please refer to the user manual.

What Accessories are Available?
Carry Case
Solar Charger
Travel Charger
DC Charger
Pelican Waterproof Case
Beam Docking Terminals
What Bluetooth Headsets Work with the IsatPhone?
The IsatPhone Pro is a Bluetooth 2.0 type device. The following commonly available headsets have been tested and approved:


Nokia BH-103
Nokia Lizzy-0720-B4.2
Nokia HS-129W
Nokia BH-208
Motorola HS H350
Motorola HS H850

Why Do I need a GPS Fix Before Making Calls?
Getting a valid GPS fix enables the Inmarsat network to optimize service. The information is not stored and will not be available on your call detail records. If the user has been operating the handset in the same general location for a few days, he/she will probably not be aware of the need for a GPS fix. If you change location drastically, a new GPS fix may take several minutes. A message will be displayed on the handset if a new GPS fix is needed
How do I send a GPS-enabled personal alert to my friends?
The IsatPhone PRO has a "personal alert feature" that enables a user to send their GPS position, along with a short pre-configured message, as an email or text message, to a maximum of 10 recipients. A short-dial code lets you send the personal alert quickly in case of an emergency. Generally, email message routing is more reliable than using text messages, but either can be used. The personal alert is made up of the following elements:
Last GPS fix and time
Time that the personal alert was triggered on the phone
Email address of the recipient if the alert is sent as an email
To set up and activate a personal alert, select Extras > Personal alert > Edit personal alert. Then, select "Configure personal alert", and edit the recipients and the message.

You can restrict access so that users without the phone's admin code cannot modify the personal alert message configuration. To do so please refer to the manual.

SMS PROBLEMS:

1) Make sure your Service Centre number is entered correctly. From your handset follow these steps:

Check the SMSC number: Go to menu > Messaging>Options>Settings>Text Message Settings>SMSC management 870772001799. The SMS Email center number is 456. This should be stored on the SIM when it is delivered and the handset should use this value as the default. In very early DP release SIMs the value was +456 and this will cause the SMS Email send to fail.
To verify this follow these steps:

Open Menu > Messaging>Options >Select Settings > Email settings. This will display a list of the stored Email centre numbers. If there is no stored value, or the value is +456, choose Select, highlight , choose Options>Edit, enter 456, choose Apply, The handset prompts the user: Choose Yes

2) Make sure you are using the correct format to send the SMS: It should be 00 .

3) If you are sending to or from a cellphone verify that your mobile carrier has an Interconnect agreement with Inmarsat.
http://www.inmarsat.com/Support/BGAN/Interconnect/Operators.aspx